We help EHS and sustainability leaders and teams create sustained value, positive impact, and risk resilience in their companies. Our services are geared to strengthen their skills, systems, and assessments within a risk management and organizational health context. A premise of our approach is that language, mental models (individual and team), and communication skills are central. The futurist and business philosopher, Charles Handy, said in Harvard Business Review's 50th Anniversary issue:
"We are unconscious prisoners of our language. While most of the time this constraint matters little, at times of momentous change in culture or society, our use of old words to describe new things can hide the emerging future from our eyes."
At Redinger 360, we see—and are helping develop—a new language of risk that provides access to solving organizational risk management conundrums with greater speed and efficiency. This new language also has the potential to transform fundamental assumptions about organizational performance, risk, and well-being both inside and outside a company's fence line. We call this next generation "risk management 4.0."
---
Risk Management 4.0 & Organizational Health
Risk management has a long and multifaceted history where numerous evolutionary plateaus can be identified. We use the term "risk management 4.0" to describe the field's next plateau. A chief attribute of risk management 4.0 is a culture of health—organizational, human, environmental, community, and global health. With risk management 4.0, there is a new context and perspective where there is wider, forward-looking awareness about company health and risks. It is driven by vision and commitment to positive impact rather than compliance. Organizational health is a key attribute of risk management 4.0 and the emerging language within it. This is where the organization is viewed as a living system, and key distinctions are balance, internal alignment on vision and mission, execution discipline, and the ability to regenerate. This language draws from the intersection of public/global health, organizational science/development, management theory, sustainability, public policy, and organizational risk management. Companies that embody risk management 4.0 show increased performance along with improved employee engagement and collaboration.
---
Embodying Risk Management 4.0
Our 360 Perspective Workshop and R360 Risk Management System (R360 RMS) are the signature Redinger 360 services that embody risk management 4.0 and help build the future-ready company.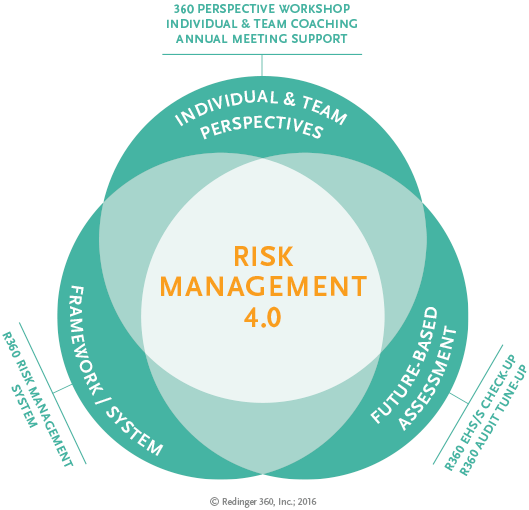 The 360 Perspective Workshop provides a transformational learning environment where a new context and perspective for EHS/S blossoms. In the workshop, EHS/S leaders and teams reconnect with source principles, energize their purpose and focus, and learn system dynamics and organizational learning-based methods that promote collective vision and alignment.
The R360 Risk Management System (R360 RMS) provides the vehicle to fulfill EHS/S and company goals. With our RMS approach, existing systems can be integrated and a platform established for robust enterprise risk management.
---
The Future-Ready Company
The future-ready company is a term Redinger 360 uses to characterize when a company reaches a point where it is satisfied that it is providing sustained value, is making positive impacts, and is risk resilient. At this point, there is increased ability to anticipate, see, and respond to emerging risks. Our assessment offerings—the R360 EHS/S Checkup and R360 Audit Program Tune-Up —include an index companies can use to measure their future-ready strength.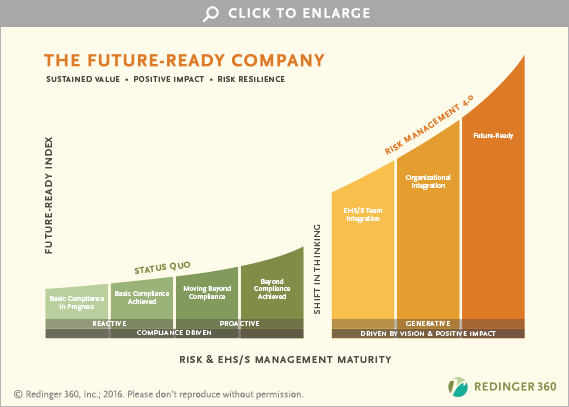 Contact us to learn how we can support you in current challenges and help your organization become future ready.